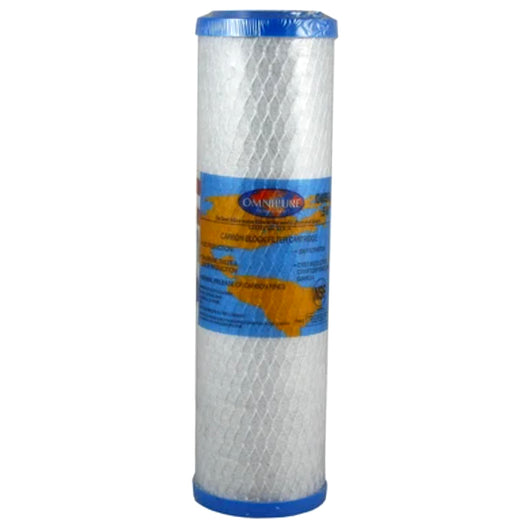 12 Pack Omnipure OMB934-KDF 1 MIC Carbon Block With KDF Filter Cartridge
Regular price $228.00 Sale
KX Matrikx PB1 06-250-10, 0.5 Micron

KX Matrikx CTO Plus 01-250-10, 1 Micron

4 Pack KX Matrikx CTO Plus 01-250-10, 1 Micron
4 Pack KX Matrikx PB1 06-250-10, 0.5 Micron

1 Box KX Matrikx CTO Plus 01-250-10. 1 Micron

1 Box KX Matrikx PB1 06-250-10, 0.5 Micron

Buy in bulk and save!
Omnipure's OM-Series filters contain the new OmnipureBlock media, a high quality carbon block made entirely at Omnipure's manufacturing facility. As a 9.75" cartridge, the OMB934-KDF 1 MIC fits most standard 10" housings. Sediment up to 1 micron, chlorine, taste and odor are reduced by the carbon block core. KDF media also enhances the carbon core's effectiveness.

Omnipure OMB934-KDF was designed specifically for removing or reducing chlorine and water-soluble heavy metals. It controls scale, bacteria and algae.
Features:
Commercial and Residential Drinking Water Systems
Pre- and Post- Reverse Osmosis Filtration
Water Coolers
Food Service
12 Pack

Specifications:
| | |
| --- | --- |
| Application | Food & Beverage, Commercial-Industrial |
| Capacity | 10,000 Gallons @ 0.75 GPM |
| Initial Pressure Drop | 5 psid @ 0.75 gpm |
| Max Pressure (Psi) | 250 |
| Max Temp (°F) | 40-125 °F |
| Micron Rating (Nominal) | 99% at 1 µm |
| Min Temp (°F) | 40 °F |
| Cap Material | Polypropylene |
| Cartridge Style | Drop-in |
| Change Frequency | 6-12 Months (buy TDS meter for accuracy) |
| | |
| Diameter | 2.50" |
| End Cap Type | Double Open Ended (DOE) |
| Filter Type | Carbon Block |
| Flow Rate | 1 GPM |
| Inner Diameter | 1.25" |
| Media Type | Carbon Block, KDF Enhanced |
| Origin | USA |
| Product Length | 9.8" |
 
Documentation:
OMB934-KDF