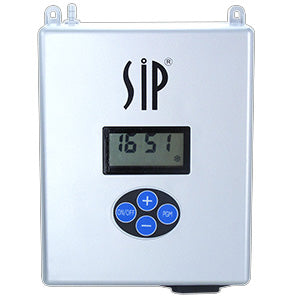 Global Ozone Filtration System
Regular price $119.00 Sale
Note:
Please contact us prior to order to check our inventory. Estimated Lead time 14 days + shipping time. Email us with questions about shipping and product details. 

Ozone Filtration

Filter. Sanitize. Disinfect 
The SIP2000 ozone filtration system sanitizes the water by converting oxygen into ozone. Ozone eliminates taste and odor problems in the water and leaves no residual disinfectant. Ozone also has a greater disinfection effectiveness against bacteria and viruses compared to chlorination.
SiP Ozone Sanitization is more effective than UV Disinfection
UV Disinfection

 

only sterilizes mold, algae, viruses and bacteria.

SiP's

 

Ozone eliminates mold, algae, viruses and bacteria in an enclosed environment, 365 days a year!
SiP uses a completely natural, chemical-free technology that converts Oxygen to Activated Oxygen Ozone. Ozone is an all-natural way to purify drinking water.
What is Ozone?
That fresh, clean smell after a thunderstorm is actually Ozone - created by nature. The SiP water cooler sanitizer creates and circulates micro bubbles of Ozone into the water of your cooler's reservoir. When the proper concentration of Ozone is infused into water, the bacteria bugs are eliminated. Without Ozone, our world would be overrun with bacteria, algae, mold and viruses. Ozone naturally oxidizes these impurities. It is also a fantastic way to purify your water. "SiP is like lightning in a bubble!" 
BENEFITS
99% effective at eliminating nasty pathogens and bacteria
Compatible with any existing reservior fed water cooler
Eliminates the need for replacing costly UV light bulbs
Purifies water by using electricity and ozone production
Requires only 10 minutes of operation during the evenings to produce a full day of clean water
Unit requires minimal maintenance and can easily be installed
Certifications:

 

CE , CSA
Warranty:

 

2 Year Limited Manufacturers Warranty
Easy Installation With Any Existing Water Cooler
Fully Customizable To Suit Your Water Needs
Lowers Energy Bill and CO2 Emissions
SPECIFICATIONS
Input voltage: 110 to 240VAC
Pump voltage: 12VAC
Pump air filter ratings: 5 micron
Ozone output: 30-60mg/hr
SAFETY
The small amount of ozone that is introduced into your cooler is completely harmless to you yet eliminates all the bugs.
The SiP 2000 includes everything you need!
Main Unit
Down Tube
Insulation Foam
Air Hose
Dispersion Block
Air Filter
Test Button
Harness
Zip Ties
Air Pump
Spare Fuse
Cooler Patch Cord
Power Cord
External Indicator Light
Operation/Instruction Manuals