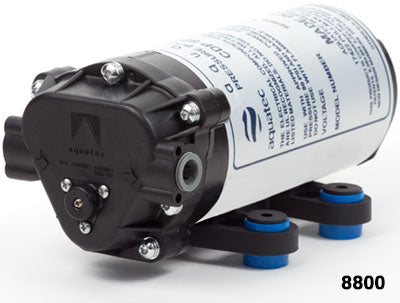 Aquatec 6800 Low Flow Booster Pump (10 to 50 GPD) 24 VAC - 1/4" QUICK CONNECT
Regular price $108.99 Sale


Please note:
Please contact us prior to order. Estimated Lead time 14-30 days + shipping time. Email us with questions about shipping and product details. 

Made for high flow reverse osmosis membranes up to 50 GPD Capable of continuous duty and are effective for recirculation based applications as well safe operation with low energy (24 Watts), low voltage (24V) 1/4" Quick Connect. 
Aquatec International is a leading manufacturer of precision diaphragm (membrane) pumps and related flow control components. For over three decades, Aquatec has produced the highest quality, most reliable electric diaphragm pumps available in the global marketplace. Every Aquatec pump is proudly assembled within our modern Southern California production facility.

Leading global manufacturers trust Aquatec pumps to satisfy a wide range of system requirements, including those related to Water Purification, Medical Devices, Automotive Care and Performance, Industrial Floorcare, Road Maintenance, Commercial Food & Beverage Service and Solar Water Pumping.



Our pumps are designed to deliver flow rates up to 6 gal/min (22.7 l/min) and operating pressures up to 220 psi (15 bar). We offer our OEM customers an unparalleled level of model customization. Our experienced sales and engineering teams can help determine the optimal configuration for any given application.

We've been awarded over two dozen international patents related to our innovative pump designs and their capabilities. We work on a factory-direct basis with OEM customers in 30+ countries, though many of our most popular pump models are also distributed globally through our distributor network.


boost water supply pressure for 100GPD to 200GPD reverse osmosis water systems 30 to 40psi boost


very quiet, efficient, use only 30 watts, self-priming, run dry without damage, diaphragm pump

pressure adjustable, Made in USA, NSF Certified and designed for drinking water, food processing

3/8" quick connect inlet/outlet + bonus two 1/4" quick connect fitting

pump only 24VAC (2 amp transformer not included) higher flow than the 8851 pump
.  
SPECIFICATIONS
| | |
| --- | --- |
| Package Qty | 1 |
| Used In Brands | Aquatec |
| Manufacturer's Id | 6840-2J03-B221 |
| Actual Size (in) | 7.28 inches (length) x 3.5 inches (height) x 3.38 inches (width) |
| Actual Size (cm) | 18.4912 x 8.89 x 8.5852 |
| Materials of Construction | Diaphragm: Santoprene, Valve: EPDM |
| Maximum Operating Pressure (psi) | 125 |
| Maximum Temperature (°F) | 270 |
| Flow Rate (gpm) | 50 |
| Flow Rate (lpm) | 189.271 |
| Fitting Size (inches) | 1/4 inch |
| Power Requirements | 24 VAC |
TYPICAL APPLICATIONS
WARRANTY INFO
Aquatec Water Systems, Inc. ("Aquatec") warrants its products to be free from defects in material and workmanship under the following terms:

All Aquatec products with the exception of series 68XX, ERP 1000, and Aquajet model pumps: The warranty will last for a period of thirteen months from date of shipping from an Aquatec warehouse. The warranty period for 68XX and ERP 1000 is twenty-five months from the date of shipment from Aquatec.

Aquatec's obligation under this warranty shall be limited to replacing or repairing at Aquatec's discretion, any such product or part which must be returned to Aquatec's factory with a Return Material Authorization Number (RMA), transportation charges approved by Aquatec or prepaid, and which upon examination, is found to Aquatec's satisfaction to have been defective under the terms of this warranty.

No credit will be allowed against future purchases for items returned as defective under the terms of Aquatec's warranty. This warranty does not extend to any products, which have been altered or modified outside the Aquatec factory, nor does it apply to units that are returned in an unassembled condition.

Furthermore, the warranty does not extend to pumps that are identified by a 9XXX model number, indicating non-compliance with Aquatec's Engineering Standards. This includes, but is not limited to, pumps ordered without an integral pressure control mechanism.

The warranty guarantees that products will perform to Aquatec's flow and pressure specifications throughout the life of the warranty. The warranty does not cover wear, appearance, misapplication, or external water damage. If the returned product is found not to be defective under the conditions of this warranty, a charge will be made for repair or replacement. Brush wear may be limited to 1000 hours or less.

This is a Limited Warranty. It covers the product only and the extent of the coverage is limited to the cost of the product. As the manufacturer has no control over shipping, handling, and installation, the warranty cannot cover water damage, or any other damage, caused by a leak or other malfunction. This warranty is in lieu of all other warranties, expressed or implied, and no person is authorized to give any other warranty or assume obligation or liability in Aquatec's behalf.

Aquatec shall not be liable for any indirect, incidental, or consequential damages of any kind incurred by the reason of the use or sale of any defective product and part.