Most Popular Products Today
---
Premium Under Sink Residential Water Purifier
Contact us for details about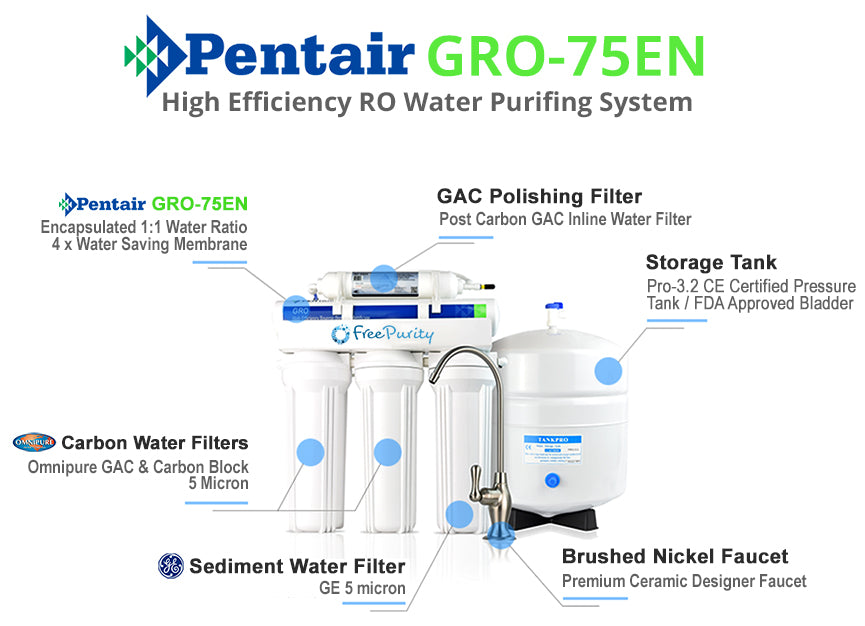 Ditch The Chemicals. Not Your Health
Efficient Purification. Water Saver
• 1:1 Water Efficient Residential Water Purifier. Waver Saver!
• Ideal For General Residentail Or Small Commerical Use Including Hydroponics And Aquaponics.
• Removes All Toxic Contaminants From Fresh Drinking Water.

• Healthy Water For Children, Pets, Plants.
• Every Purchase Triggers A Donation To A Family In Need Of Safe Drinking Water!
• On Well vs. Municipal Water? Add A Pump To Your Order (email for details).
• Includes Pentair GRO-75 Membrane. These Systems Are Fully Customizable. Add Filtration Stages, UV Light, Pump, Switch Membranes, Filter Brands and Tank Size (email for details).
Our Customers Love Our Premium Products
Fear of viruses finally got me to buy a real water purifier for peace of mind. I have to say, I stopped worrying about our water. I know it's clean because I can test it anytime myself. 

Jessica R.
Bought the Designer's choice water purifier. Stopped wasting money buying teas and coffees at Starbucks. My water taste better. You can tell the difference! 

Matt Straus
I love my LifeSaver Bottle! Our trip to Hawaii took our adventures to find waterfalls to another level!

Jessica Hobart
It took 71-days to row across the Atlantic Ocean from NY to England. We set a Guinness World Record. This couldn't have happened without using an RO system onboard our rowboat. I've been a fan ever since!

Dr. Greg Spooner, DPT
I love the idea of donating to humanitarian causes and helping orphanages while I shop for gifts I want to get for my friends anyways. Thanks!

Joe Moore
I love a taste of pure, fresh water and within 2 weeks I could see my skin looking more "alive". I ditched my water delivery service as using RO at home is just too easy!

Laura King
The LifeSaver Jerry Can was perfect for a jeep adventure I took with 3 of my buddies last month. We camped by a stream which was enough for our everyday water drinking needs!

Jason Tom
Installed the RO Purifier in my showroom under a custom sink and to my surprise the water taste amazing, plus I saved immediately by stopping a bottle service at the office.

Darcy Kempton
I work with an NGO & have travelled to several nations including Kenya, India & Nepal. It's possible to go to India and not get diarrhea. Thumbs up!

Sven Stuhrnmann
All about water purification and wellness
---
Protect Your family by installing a water purifier at home
Staying Healthy Just Got Easier!
Our water purifying products help you remove harmful contaminants such as chlorine, fluoride, asbestos, rust, copper, lead, aluminum, pesticides, herbicides, salts, radioactive particles, microbes and more. Make everything taste better by starting with healthy, delicious water.