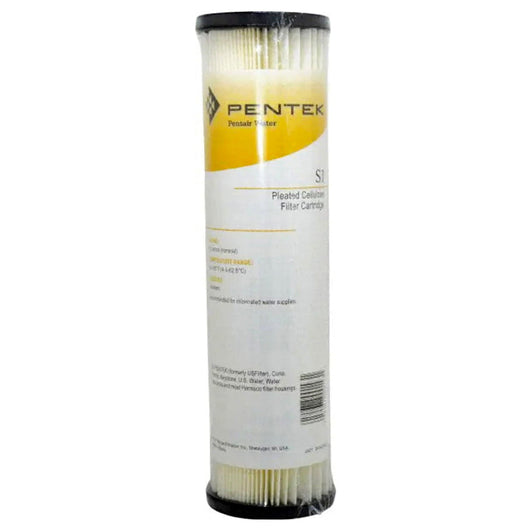 1 Pentair Pentek Pleated Cellulose Filter Cartridges S1 155001-43
Buy in bulk (6,12,24) and save!

S1 Series cartridges are manufactured from a pleated cellulose media and are designed for general water filtration purposes. The media is pleated around a polypropylene core for added strength and the ends are immersed in a thermo-setting vinyl plastisol. Embedding and sealing each end of the pleat in this fashion fuses the three components together forming a unified end cap and gasket.

Pleated design maximizes dirt holding capacity
Designed for general water filtration purposes
Recommended for chlorinated city water supplies

Pentek 155001-43 Specifications:
1 Filter

Filter Media: Pleated cellulose
Filter Life: 4 months or 16,000 gallons (whichever comes first)
Application: City water only
Contaminant Reduction: Sediment (sand, dirt, silt, rust, and scale particles)
Dimensions: 9-3/4" L x 2-5/8" D
Rating: 20 micron
Flow Rate: 2.4 psi at 10 gpm
Temperature Rating: 40°F to 145°F
Part Number: 155001-43 / 15500143
Model: S1
S1 Series Cartridges Overview:
High flow filtration (very little pressure drop)
Pleated design maximizes dirt-holding capacity
Designed for general water filtration purposes
Recommended for chlorinated water supplies
Documentation: 
Pentek 155001-43 (Spanish)

Pentek 155001-43 (French Canadian)

Pentek 155001-43 (Warranty)