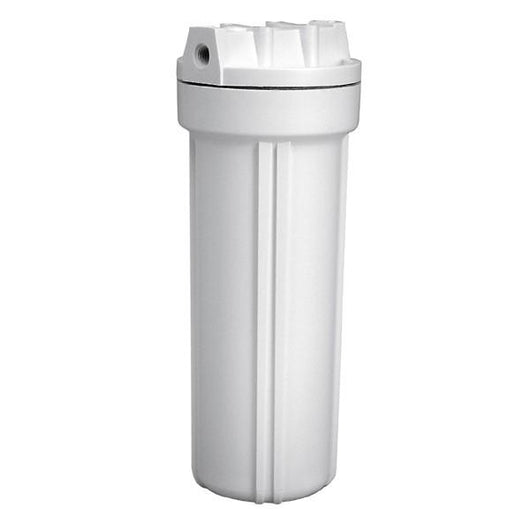 10" White Pentair® Slim Line® Filter Housing 3/8" Inlet WO/PR - 158098
Pentair®'s PENTEK 158098 10" W/O PR FILTER HOUSING 3/8"NPT WHITE
Slim design reduces space required for installation without sacrificing capacity
FDA grade
Leak-proof sealing with top-seated Buna-N O-ring
The Pentek Pentair 158098 3/8" NPT Slim Line 10" White Housing is made of a durable, reinforced polypropylene that is compatible with a variety of chemicals. The space-saving design of the Slim Line housing lets you install your housing in cramped spaces while still providing the same capacity of larger housings.
There is no pressure relief button on the cap.
The Pentek Pentair 158098 may be used in a variety of low-flow applications, such as under sink, countertop and pre- and post-reverse osmosis filtration systems. This housing may also be used in some humidifying systems, recreational vehicle filtration systems and food service applications.
The Pentek Pentair 158098, also known as US Filter and Ametek part number 158098, installs using the four mounting bosses on top of the cap. 
Pentek Pentair 158098 Product Specifications:
Housing Sump: White Reinforced Polypropylene
Connections: 3/8" NPT
Length: 10" (11 3/4" x 4 3/8")
Max. Temp.: 125 F
Max. Press.: 125 PSI
O-Ring Replacement:

 

Pentek 151120 (email directly)
OPAQUE SLIM LINE HOUSINGS
Molded from rugged reinforced polypropylene, these housings are ideal for under-sink and countertop residential filtration, pre- and post-reverse osmosis filtration, recreational vehicle filtration, food service, humidifying systems and light commercial and industrial filtration.
PRODUCT DETAILS
Housing: Styrene Acrylonitrile (Clear) and Polypropylene (Opaque)
Cap: Reinforced Polypropylene
Button Assembly: 300-series Stainless Steel, Polypropylene and EPDM
O-Ring: Buna-N
Maximum Temperature: 125°F (51.7°C)
Maximum Pressure: 125 psi (8.62 bar)
Maximum Dimensions: 11-3/4" x 4-3/8"
Initial Pressure (PSI) @ Flow Rate (GPM): 2 PSI @ 5 GPM