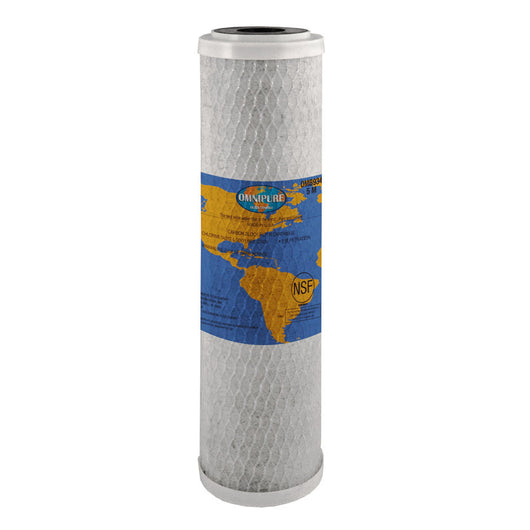 20 Pack Omnipure OMB934-MAX5 Carbon Block Filter Cartridge
Regular price $145.00 Sale
Buy 20 and save!
The Omnipure OMB934-MAX5 is a 5 micron coconut carbon block filter cartridge perfect for chlorine and taste or odor reduction used in many residential and commercial applications.

Omnipure Filter Company offers three series of replacement filter elements for use in systems or as stand alone units. They are the OC-Series, the CS Series and the OMB Series.

The OMB Series of replacement cartridges feature the new OmnipureBlock™ media. This high quality carbon block media is manufactured from raw materials to precise specifications entirely at the Omnipure manufacturing facility. Filter elements are available in 10 micron, 5 micron, 1 micron and 1 micron lead reduction formulations. Elements are finished with a single layer of spun-bonded polypropylene netting.


TECH SPECS
20 Pack (discounted price)
9-3/4" x 2.5"
5 Micron
Rated capacity: 10,000 Gallons
Flow Rate: .75 gpm
Max operating pressure: 125 psig
Operating temp: 40-100

ºF




Reduction: Chlorine, taste, odor

Filter outer diameter: 2.87 in

Filter length: 9.75 in

Micron Rating: 5 

µ

Available replacement cartridge: Carbon block cartridge
Polypropylene end caps with compression gaskets are standard. Ask us directly about custom formulations and alternative finishing options. 
Omnipure replacement cartridges are available in our standard granular media combinations as well as carbon block configurations. OMB cartridges fit standard 10 in and 20 in housings.