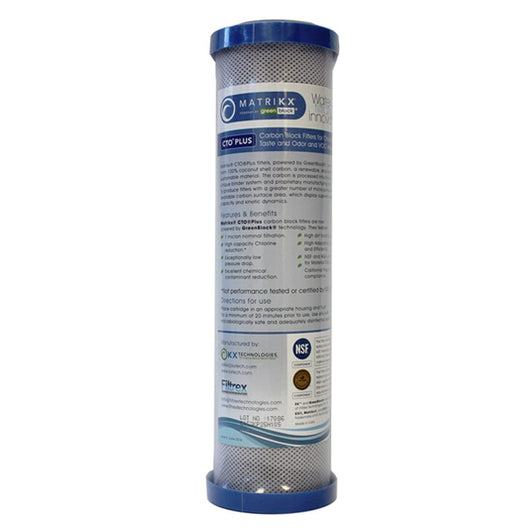 4 Pack KX MATRIKX CTO PLUS Activated Carbon Block | 01-250-10 | 1 Mic
Regular price $37.50 Sale
4 Units of CTO PLUS Activated Carbon Block Filters for Chlorine Taste and Odor reduction.

Kx Technologies MATRIKX  01-250-10 is the most reliable, trusted, and widely used carbon block in the world. The 10" size is the industry standard and will fit any "standard size" (For filters that are 10") under sink RO systems or 10" housing. 

KX Matrikx CTO PLUS Activated Carbon Block Filters are made using 100% coconut shell based activated carbon, a renewable and ecologically sustainable material. The carbon is processed into blocks using a unique binder system and proprietary manufacturing techniques to produce filters with a greater number of micro-pores and available carbon surface area, which display superior adsorption capacity and kinetic dynamics.

CHLORAMINE & VOC reduction claims are now standard in Matrikx CTO PLUS line, the result of a breakthrough in high performance Catalytic Carbon Technology.

FEATURES & BENEFITS
4 units of CTO PLUS

Chloramine reduction

VOC reduction

1 micron nominal filtration reduces dirt, sand, rust and sediment

High dirt holding capacity

Silt control filter

Exceptionally low-pressure drop: 5 psid @ 3 gpm

Excellent chemical contaminant reduction.

High Adsorptive Capacity and Efficiency.

Industry-Standard Size for Universal Replacement. 10" Big Blue Filter Cartridge Dimensions: 2 ¾" OD x 9 ¾ " and 4.5"x11¾"

NSF and WQA certification for material safety
California Prop. 65 compliance
USAGE
Used in residential and commercial water purification systems, industrial effluent water treatment, product rinse, process water, food service, industrial makeup, and pre - and post-RO systems which require nearly absolute chlorine taste and odor reduction. 
GREEN QUALITY
Matrikx CTO, powered by GreenBlock, carbon block filters are:
Manufactured in ISO 9001 and 14001 certified facilities.
Manufactured from Global Ecocarb's NSF standard 61 certified ECOC GreenCarbon Coconut Shell Carbon.
NSF Standard 42 certified (material safety).
California Prop. 65 compliant.
Performance validated by independent laboratories including WQA.
Quality and performance monitored in extensive in-house laboratories.
TECHNICAL DETAILS
Part / Model: 01-250-10-Matrikx

Weight: 12 oz each

Color: Blue endcaps, natural body

Capacity: 20,000 Gallons

Flow Rate: 1 gpm
OPERATING LIMITS
Maximum Operating Temperature: 125°F/ 52°C

Maximum Operating Pressure: 250 psig/ 17 bar

Maximum Differential Pressure: 100 psid/6.895 bar

Collapse Pressure: 200 psig/13.79 bar


GREEN ADVANTAGE


KX Technologies® and Filtrex Technologies®, both Marmon Water/Berkshire Hathaway companies, have teamed up to combine the very best of their MATRIKX® and GREENBLOCK® carbon block lines, into a single world-class product offering. 

The new and improved product line is the result of decades of experience in R&D, design, formulation, and manufacture of high-performance carbon block filters. MATRIKX® CTO® filters, powered by GREENBLOCK®, are made from 100% coconut shell carbon, a renewable, and ecologically sustainable material. 

The carbon is processed into blocks using a unique binder system and proprietary manufacturing techniques to produce filters with a greater number of micro-pores and available carbon surface area, which display superior adsorption capacity and kinetic dynamics. The companies are committed to Research and Development to advance filtration technology in an ecologically sound way
DATA SHEET
Matrikx CTO Data Sheet (discontinued models)
Matrikx CTO Data Sheet (New models)