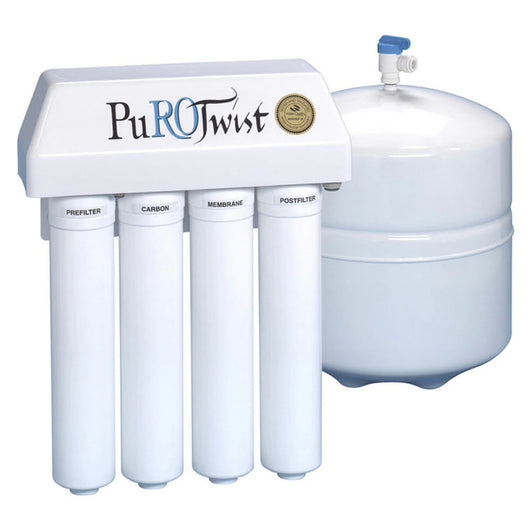 PuROTwist PT4000T36-50-Gold Stage Reverse Osmosis System
Regular price $299.00 Sale
Note:
Please contact us prior to order to check our inventory. Estimated Lead time 30 days + shipping time. Email us with questions about shipping and product details. 
The PuROTwist 4000 is a premium Reverse Osmosis System that provides 36-50 GPD capacity (50 GPD optional). It is a "quick change system" with "twist-and-lock" type housing that produces some of the highest quality drinking water. This compact design fits well under most kitchen sinks.

The PuROTwist 4000 RO system's semipermeable TFC membrane rinses contaminants to the drain while the purified water is conveniently stored in a sealed tank ready to be used. The system also includes a lead-free air gap faucet to deliver an abundant supply of clear, clean, and fresh drinking water on demand. 

PuROTwist 4000 RO System with a Permeate Pump Features (optional):
Tested and Certified by WQA to NSF/ANSI 58
Quick change cartridges for easy filter change outs
System includes holding tank, faucet, and installation kit
Utilizes high quality John Guest Fittings
Permeate pump technology to significantly reduce waste water
PuROTwist 4000 Four Stage Purification Process
Stage 1: 5 Mic Sediment Filter (Q5605): Removes dirt, sediment, sand, and other larger particulates. 


Stage 2: Carbon Block (Q5633 or Q5629): Provides protection to the RO membrane from free chlorine and sediment.


Stage 3: TFC RO membrane (TQ56-36FC/NSF): Membrane reduces a high percentage of dissolved inorganics.


Stage 4: Post Carbon Filter (Q5633): A final polishing process that improves taste, enhances and clarifies drinking water for immediate use.


WQA Goldseal Certified To NSF/ANSI Standards 58 & CSA (#PT4000T36-GOLD)

Additional reduction of these contaminants:
Barium, Cadmium, Lead, Copper, Chromium III & VI, Radium 226/228, Selenium, TDS. 
This system has been tested and certified by the Water Quality Association according to NSF/ANSI 58.

PuROTwist Features:

WQA Goldseal Certified NSF/Prop 65 lead free air gap faucet
36-50 GPD TFC RO Membrane
John Guest® fittings
Drain connector
Feed supply
Tank ball valve
Omnipure®Filters
Auto shut off valve
3/8" From tank to faucet for full flow

Options include (contact us directly):

Permeate pump
Booster pump
UV Light
Water Quality Monitor
Large Holding Tank
Leak Detector
Warranty:

PuROTwist warranties the reverse osmosis system to be free from defects in materials and workmanship under normal use within the operating parameters listed below. For a period of five years from the date of purchase, PuROTwist will repair or replace any part of the reverse osmosis system with the exception of the filters, membrane and battery. The RO membrane carries a one-year warranty.
Conditions Of Warranty
The above warranty shall not apply to any part of the reverse osmosis system that is damaged due to neglect, misuse, alteration, accident, misapplication, physical damage, fouling, and/or scaling of the membrane (by minerals, bacterial attack and/or sediment), fire, frozen water or hot water. PuROTwist assumes no warranty liability in connection with this reverse osmosis system other than as specified herein. PuROTwist shall not be liable for consequential damages of any kind or nature due to the use of PuROTwist products.