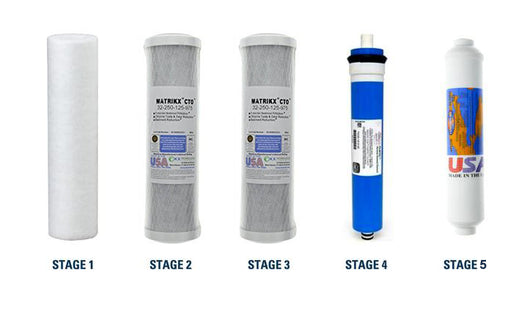 1 Set - 5 Stage Under Sink Replacement Filters With Filmtec 50 GPD RO
Regular price $65.00 Sale
1 Set 5 Stage Premium Under Sink Replacement Filters With 50 GPD RO

WHAT'S INCLUDED
Top of the line, long-lasting, made in the USA, NSF tested and certified wiht premium Filmtec membrane. All filters and membranes are 2"x10"
STAGE 1 - 1x  GE Purtrex Sediment Pre-Filter
STAGE 2 - 1x  Matrikx 01-250-10 Activated Carbon Block Pre-Filter
STAGE 3 - 1x  Matrikx  

01-250-10

 Activated Carbon Block Pre-Filter
STAGE 4 - 1x  Premium Filmtec TW30-1812-50HR RO Membrane 50 GPD
STAGE 5 - 1x  Omnipure Activated Inline Carbon Post Filter


* Frequency of Filter replacement depends on the quality of your water and consumption habits. It is recommended to test your water every 6-12 months to ensure your RO system purifies your water adequately to keep contaminants below 50 ppm (parts per million - milligrams over liters). Please use the TDS meter that came in your box to check TDS levels.