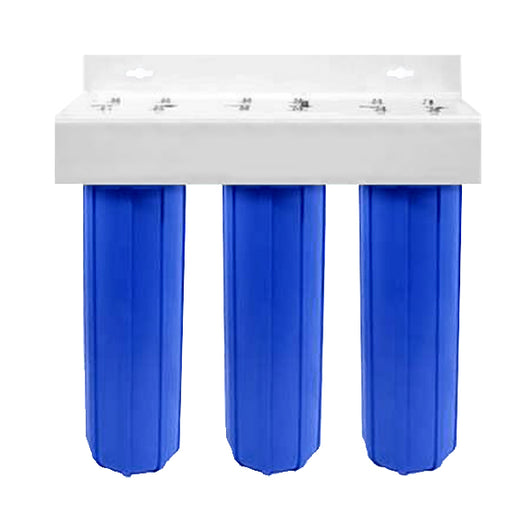 Pentek FR-3BB-WOF Point of Entry Triple 20" Big Blue Filter Housing DIY Kit 1" FPT
Regular price $212.73 Sale
Note:
Please contact us prior to order to check our inventory. Estimated Lead time 14-30 days + shipping time. Email us with questions about shipping and product details. 
Point of Entry Pentek FR-2BB-WOF Triple 20" Big Blue filter housing has two 20" Big Blue style filter cartridges ready for installation at the source to filter entire house, commercial property or small industrial application. This system includes three durable commercial grade filter housings that are pre-plumbed and ready to use on a single powder-coated steel bracket. 


This dual housing system does not come with filters, typically you will need 20" sediment and carbon block filters. 


1" female threaded inlet/outlet (FPT)
Triple 20" Big Blue Filter Enclosures Mounted on Painted Steel Bracket
Powder-coated steel bracket
1 filter wrench (not included)
13 lbs weight
Dimensions 5"x5"x21"