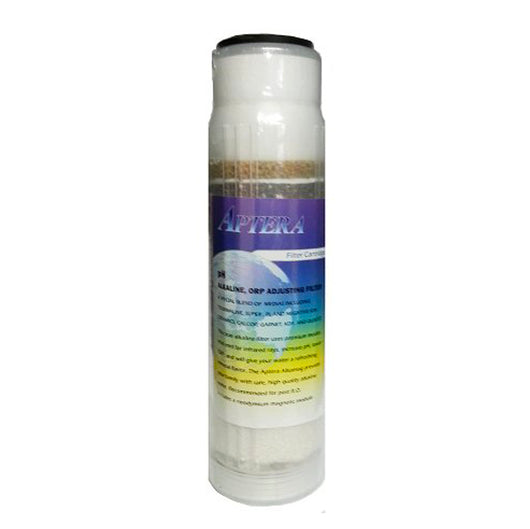 Puregen APTERA-2510 - 9-3/4" x 2.5" AlkaMag Alkaline Filter - 0.5 GPM 1000 Gal
Regular price $98.00 Sale
Note:
Please contact us prior to order to check our inventory. Estimated Lead time 30 days + shipping time. Email us with questions about shipping and product details. 

This true 10 stage Alkaline Filter offers premium filtration medias that emit Far Infrared Rays, increase pH, and will give your water a refreshing mineral flavor. These filters can be added to any under sink standard reverse osmosis, ultra or nano water purifier. 

This drinking water filter is a standard 2.5"x9 3/4" ionized alkaline water filter cartridge and is recommended for post reverse osmosis systems. The filter should be placed between the permeate side of the RO membrane and the water holding tank (meaning install this cartridge after RO stage or your final sediment stage.

This alkaline ionized water filter needs a slower flow rate (max 50 GPD) in order for the water to have sufficient contact time with each of the medias.

If you already have a remineralizing filter that came with your original RO system, it should be noted that if you detect any unpleasant mineral taste in your water, the Puregen Aptera Alkaline filter will produce refreshing water but without unpleasant mineral taste.
Specifications
Dimensions: 9-7/8" x 2-1/2" (fits 2.5" x 10" or 2.5" x 9-3/4")
Increases pH
Lowers ORP
For use as a Reverse Osmosis Post filter
Fits into standard slimline housings
Suitable for use on RO systems up to 50 GPD (.025 GPM-

0.5 GPM)

500-1000 Gallons capacity

Change cartridge every 6-12 months

Cartridge Style - Drop in

Made in US
Details
The 10 stage process starts with a high strength patented Neodymium magnetic module. The Quartz media is minded from Californias Yuba Gold Fields and the special blend CalCor media imparts a refreshing mineral taste to the water by dissolving Calcium Carbonate and Magnesium Dioxide into the water stream. Tourmaline Ceramic emits a high capacity of Far Infrared Rays and Negative Ions. The Negative ION ceramic media discharges a high capacity of negative ions (above 800/cc). The Pi ceramic layer further increases the waters pH and palatability and increases the oxidation-reduction of the water molecule "The Super Ceramic" layer contains over 10 minerals and imparts a pleasant taste to the water while emitting even more Far Infrared Rays. Almandine Garnet is a naturally occurring gem mineral with uniform physical, chemical, hardness, friability and micro-structure characteristics, which provide the essential properties for the water filtration processes. The KDF Redox layer incorporates a special blend of high purity Copper and Zinc to reduce heavy metals, microorganisms, scale, and is a listed bacteriostat. The water exits through a polishing sediment filter ensuring safe, clean and crystal clear drinking water.

Unsure how this filter may connect to your system? Email us for assistance. This filter can not be used as a stand alone filter.