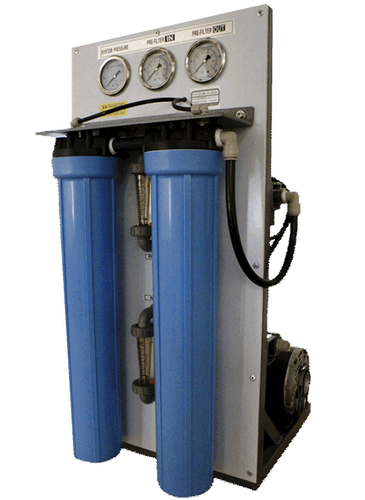 Reverse Osmosis Compact II Units - ROS/COMP-II-150 Up To 900 GPD (120V/60HZ)
Regular price $1,844.28 Sale
Please note:
Please contact us prior to order. Estimated Lead time for a custom built system is 60 days + shipping time. Email us with questions about shipping and system details. 
FreePurity can provide you with commercial & light industrial reverse osmosis systems for different applications. Our systems range from 150 gpd to 1 million gpd for tap, well, municipal and sea water applications. Full packages 
with pre and post treatment are also available. For special applications or larger commercial units please contact us directly.
SPECIFICATIONS
Thin film composite membrane
Stainless steel membrane vessel
Powder-coated steel frame
Liquid-filled system pressure gauge
Liquid-filled Inlet/Outlet pre-filter gauges
Pressurized tank pressure gauge
Fixed waste/recycle flow controls, stainless steel
High-pressure nylon tubing
High-pressure brass comp. fittings
Storage tank pressure switch
Feed water inlet solenoid valve
Feed water low pressure switch
Rotary vane pump
1/2 hp motor (150-450 gpd)
3/4 hp motor (800 gpd)
20" 5 micron sediment pre-filter (1)
20" carbon block pre-filter (1)
110 volt-50/60hz


OPTIONS
Upgrade the reverse osmosis system with the following options. Please contact directly for pricing, volume orders and to complete your purchase. 
Nanofiltration membrane
Super Hi-Flow membrane
Float switch for atmospheric storage tank
TDS digital monitor
Product and waste flow meters
includes adjustable waste/recycle valves
220 volt-50/60hz
DETAILS